Implement a basic video call

Use Tokens for authentication

Scenario-based audio/video config

Basic face beautification features

Voice changing/Reverb/Virtual stereo
Introduction
Last updated:2022-09-05 17:20
---
ZEGOCLOUD's Video Call (the Express-Video SDK) helps you quickly build reliable and scalable video calling and interactive live video streaming into mobile, desktop, and web applications for a wide range of use cases such as one-on-one and group video calls, online education, entertainment live video streaming, and others.
With just four simple steps, your applications can access ZEGOCLOUD's cloud streaming platform to deliver high-quality, ultra-low-latency, and interactive video to your end-users across all platforms with the support for massive concurrency, providing the users a perfect live video experience.
For related concepts, see Glossary.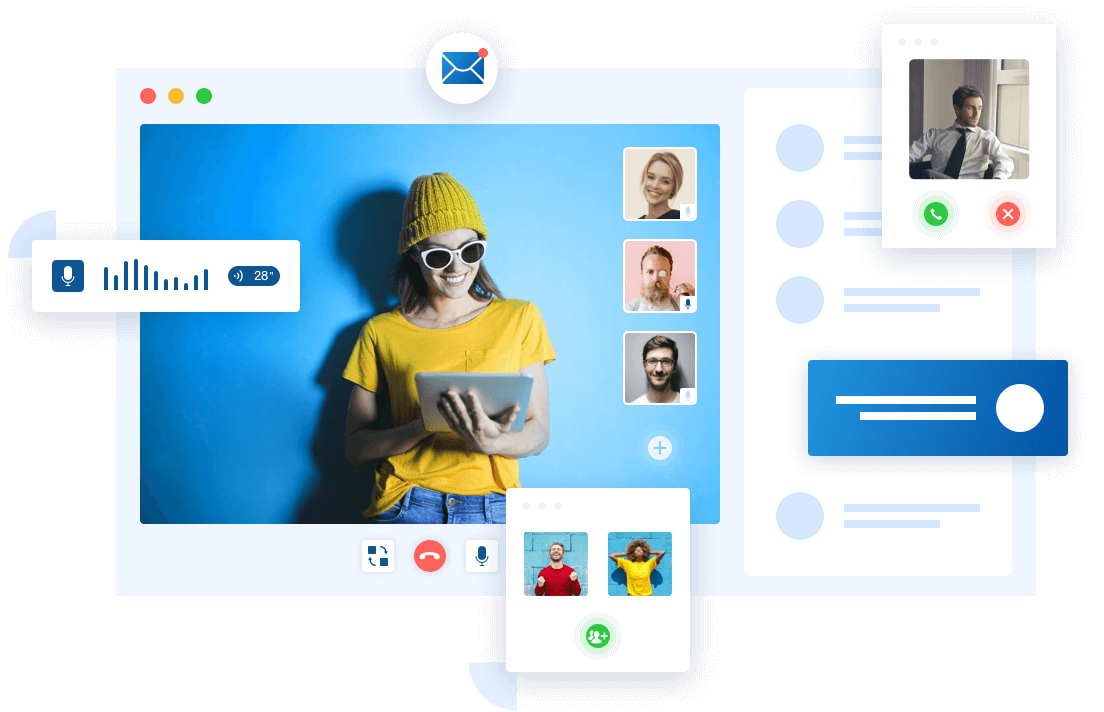 Use cases
Social: Embed live video calls into your social apps, so your users can vividly see each other's face, feel each other's emotions, and build deeper connections. Add face beautification, AR effects, and other features to make video interactions more fun and engaging.
Online education: Create virtual classrooms for all types of online learning. Deliver a successful online learning experience with high-quality and low-latency real-time video calls, screen sharing, and other features.
Video conferencing: Enable remote workforces to collaborate effectively in real-time from anywhere with high-quality video calls, screen sharing, and other features.
Video customer services: Integrate video calling into your customer service workflows so you can respond to your customers' requests quickly and efficiently to improve customer engagement and satisfaction.
Telehealth: Add video consultation capabilities to your telehealth apps to connect patients with doctors from the comfort of where they are and make healthcare services more accessible to more people.
Live events: Live stream your event to a global audience to maximize the impact. Increase audience engagement by adding text chat, virtual gifting, polling, and other features.
To help you build a call app for the scenarios you want quickly, we also provide a ZEGO Call solution that contains the Demo call app and fully open-source sample code. For more details, see ZEGO Call developer documentation.
Why ZEGOCLOUD's Video Call
Real-time video communications regardless of distance
Deliver high-fidelity real-time voice using 48kHz full-band audio sampling.
With industry-leading audio processing technologies, including acoustic echo cancellation (AEC), automatic noise suppression (ANS), and automatic gain control (AGC), distracting echoes and background noises can be removed without compromising the audio quality.
Adjust various encoding parameters such as video bitrate and video frame rate to adapt to the current network conditions to ensure a smooth video experience.
Stay connected anywhere in the world
ZEGOCLOUD's real-time communications network covers more than 200 countries and regions, providing end-users worldwide with outstanding real-time audio and video experience.
With sophisticated QoS strategies that take advantage of techniques such as adaptive jitter buffering (AJB) and forward error correction (FEC), ZEGOCLOUD provides stable and smooth real-time communications services even in weak network conditions where packet loss is up to 70%.
Uses fully optimized algorithms to predict available network bandwidth based on current network quality data and adaptively adjusts stream publishing and playback, so as to control the network traffic to suit the network conditions.
A variety of enhanced features
Make voice interactions more fun can engaging by adding voice beautification, voice changing, and other audio effects.
Add spatial effects to real-time audio to create a more immersive communication experience.
ZEGOCLOUD provides AI-powered face beautification features, virtual makeup, and other tools to help users enhance their appearance in video calls.
Use SEI to deliver text messages along with video streams to achieve more versatile real-time interactions.